Wholesale Terms and Conditions
Please find below our current terms and conditions of sale for our wholesale program. Submission of your completed wholesale application form constitutes your acceptance of the terms and conditions below.
Payment
All payments are charged in Canadian dollars ($CAD)
To process orders and when setting up a new account, we require the customer to provide details of a valid credit card. Your payment information will be kept securely on file. Visa & MasterCard are accepted.
Orders are charged in full at the time of shipping. We use the credit card on file unless other arrangements have been made.
If cheque payment has been negotiated, all cheques must be received and cleared before the order will be dispatched.
Orders will be charged at the time of shipping using the customer's payment details on file. Any extension of credit terms will be at the sole discretion of Vital I.D. All unpaid and overdue accounts will be subject to appropriate interest penalties.
All product remain the property of Vital ID Inc. until paid for in full.
Product Orders & Shipping
Orders will be shipped as standard via Canada Post Expedited Parcel service (approx 10-12 business day delivery). A shipment tracking number will be provided to the client at the time of shipping.
Shipping via Canada Post Xpresspost service or Xpresspost International service (6 business day delivery) can be arranged upon request. A shipment tracking number will be provided to the client at the time of shipping.
Shipping insurance can be arranged at the customer's request and expense. Orders will only be insured to a maximum value of $100 CAD unless otherwise instructed.
Minimum order size is 50 units
To avoid error, product orders must be made in writing either by fax or email.
Product Returns
Any returned product must be returned in original shipping cases and the product must be returned in unpacked, 100% condition.
Product will only be accepted for return due to a manufacturing fault. The customer must inform Vital ID of this situation within 10 business days of receipt of the order.
Any refunded monies will exclude the costs of shipping (excluding faulty product returns).
Use of Trademark
The use of the "Vital I.D" trademark & corporate identity (including website & logo design elements) by the customer is prohibited unless permission has been granted in writing by Vital I.D. Inc.
Sales & Marketing Material
Vital ID will supply customers with certain selected marketing material including product images and information upon request. These materials will be in digital form for download and use by the customer. All costs for printing and use of these marketing materials will be assumed by the customer.
Liability of Product Use
Vital ID Inc. assumes no liability for damage or injury sustained in the use of our product.
Sales Territories & Exclusivity
Rights for sales territories will only be given at the sole discretion of Vital ID Inc.
Sales territories agreed verbally or in writing are not legally binding unless a sales territory agreement has been signed by both Vital ID and the customer and will be for a period of a maximum of 12 months unless otherwise agreed
Sales territories will only be awarded based on a proven successful sales relationship between Vital ID and the customer and requires consistent sales history with agreed volume sales.
Sales territory agreements can be terminated by either party for any reason by giving 12 weeks written notice to the other party.
Product Pricing
Vital ID Inc. reserves the right to change pricing at any time. However the company will provide reasonable notice to customers where it is possible to do so.
Product Development & New Product Offerings
Vital ID Inc. reserves the right to make product changes & improvements to our product range without notice.
Vital ID Inc. continually innovates and we reserve the right to introduce new products at any time.
Customer Resale
Vital ID reserves the right to specify a price that the customer can charge the end user for the product in the market place (a high and low price). If the customer refuses to abide by this reasonable price range, Vital ID reserves the right to cease future sales to the customer (the recommended price range is set to provide a fair trading environment for all stockists / retailers/ wholesalers of Vital ID products)
Product Replication / Manufacture
Customers are not permitted to replicate features or design element of our products with products of their own manufacture or manufactured on their behalf during our period of trading and up to a period of 24 months after cessation of a trading agreement with Vital ID.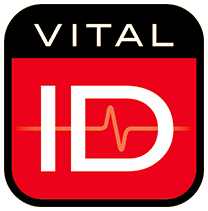 We're committed to providing quality, thoughtfully-designed products. Whether you're looking for practical identification solutions for co-workers, loved ones, or your own personal use, Vital ID has you covered.
©2018 Vital ID, Inc. All Rights Reserved., produced by Spinstak