Are you ready to raise the bar on safety?
You don't settle for less than the very best in anything you do. Why settle for less when it comes to worker safety?
Every day, the workforce puts it all out on the line. They work in some of the most dangerous places and under the most extreme conditions. A worksite accident or injury is very possible. So, how do you ensure the health and safety of your workers?  
Safety requirements are always changing and evolving. And, hopefully improving for the better. But, it's still not quite where it needs to be. Far too often, industries rely on minimum requirements when designing their safety programs.
Check back soon for more information on how you can get our new mobile app!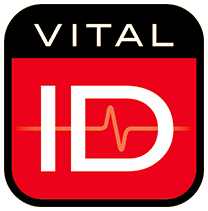 We're committed to providing quality, thoughtfully-designed products. Whether you're looking for practical identification solutions for co-workers, loved ones, or your own personal use, Vital ID has you covered.
©2018 Vital ID, Inc. All Rights Reserved., produced by Spinstak